Moving Packing Crate Rentals & Packing Materials
Plastic Packing Crate Rentals
Elephant Moving and Storage is pleased to offer plastic packing crate rentals to customers in the greater Austin, Houston and San Antonio areas.
These durable plastic crates are an earth-friendly alternative to the traditional method of packing in cardboard boxes. Our moving packing crates feature an attached lid for ease of use and the sturdy plastic body provides superior protection for your household goods.
The crates are stackable and easy to move and are cheaper than purchasing large quantities of cardboard boxes.
Benefits of Plastic Packing Crates
Virtually indestructible
Waterproof
Hinged lid never gets lost
No tape needed; no time spent building boxes
Arrive fully assembled and ready to use
Adapts to letter and legal sizes using metal hanging bars
The Cost Savings of Plastic Packing Crates
Larger than boxes so you need 20-50 percent fewer crates than boxes
Crushproof, which means no damage to packed contents.
Elimination of the disposal costs and post-move clean-up time usually affiliated with cardboard boxes
Packing Crates can be rented in increments of 25. Rates for our plastic crates include 2 full weeks (14 days) of rental. Delivery and pickup are included in the price.
Unforeseen delays with your move? No Problem! An additional week can be added at a deep discount. Add some packing paper and bubble wrap to cushion your fragile items and you are ready to pack!
Call our office today to speak to a sales representative about how our plastic crates can save you time and money!
Or Call Us At: 512.442.6622
---
Moving Packing Materials and Products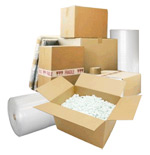 Elephant Moving stocks a wide inventory of moving packing materials – everything you would need in preparing a move of your home or office. Remember: we've done this a million times so we know, given your estimates, exactly the products and materials you'll need.
Elephant Moving and Storage can provide you with:
Moving boxes of all sizes
Packing tape
Wrapping paper
Custom-made boxes
Or Call Us At: 512.442.6622
---
Moving & Packing Tips from Elephant Moving
We've moved families and companies for years. Year after year and move after move, we've found that these simple moving and packing tips will save you significant time, money and frustration.
Buy more moving boxes, materials, and products that you think you will need… because you will need them;
Create a list of each item you're prepared to pack and move – group like things together on the list;
Number your moving boxes and make sure to indicate that number adjacent to each item on your list;
Assign each moving box a color to match a room in which it should be placed in your new home or office;
Wardrobe boxes are perfect for items and clothes that require hanging – and there's extra storage space on the bottom and top for small bags of clothing (do not pack bowling balls in wardrobe boxes!);
Pack like items together, i.e., books, clothes, cleaning supplies;
Pack out-of-season clothes and hardly-used items ahead of time;
Use your luggage to pack clothes or other items;
Things to pack last: toolbox, soap, rolls of toilet paper and paper towels, one bottle of cleaning solution.