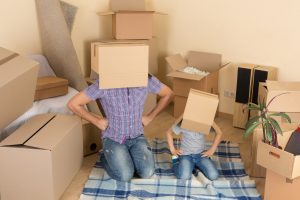 Many of our customers choose to have their packing done by their movers. After all, they are professionals!
It's one less BIG thing to worry about as moving day approaches.
Check out Our Tips, Tricks, and Advice for Packing
Keep in mind that moving companies generally are not liable for the contents of boxes the moving company did not pack.
Even so, some people do prefer to do their own packing. When you choose to pack yourself you should approach the project correctly to avoid costly damages.
It can be a daunting task, but here are some packing tips to help your more fragile items make it to your new home in one piece!
Fragile China & Crystal Stemware
Your most fragile china and crystal stemware should be carefully wrapped in paper and placed in dish pack cartons; cellular dividers are recommended for stemware.
You may also want to look into insuring any items with values exceeding $100 per pound.
Wrap all pieces of china and glassware individually. Using several sheets of clean paper, start from the corner, wrapping diagonally and continuously tucking in overlapping edges.
A generous amount of paper padding and cushioning is required for all china and glassware – don't be cheap with the materials, it will cost you in the long run!!
A double layer of unprinted newsprint serves well as outer wrapping.
Label cartons with room, contents and "FRAGILE" THIS SIDE UP."
Packing Flat China & Flat Glassware
Place cushioning material at the bottom of a carton. Wrap each piece individually with clean paper, then wrap up to three in a bundle with a double layer of newsprint.
Place these bundled items in the carton in a row on edge.
Larger china and glass plates, platters and other flat pieces are excellent as the lowest layer in a dish pack.
Surround each bundle with crushed paper, being careful to leave no voids or unfilled spaces.
Add two or three inches of wadded paper on top of the bundle to protect rims and make a level base for the next tier.
Horizontal cardboard dividers can be helpful in keeping layers level.
Smaller plates, saucers and shallow bowls could make up a second layer. Wrap and pack in the same way as larger items.
Cups
If not using cellular dividers, wrap cups individually first in a double layer of paper and place them upside down on rims in a row on an upper layer with all handles facing the same direction. Top off the layer with wadded newsprint.
Even when using a dish pack and cellular dividers, wrap china cups individually first, protecting handles with an extra layer of clean paper. Then, pack cups upside down.
Silver & Flatware
To protect silver pieces from tarnishing, they should be completely enclosed in newsprint or plastic wrap.
Hollowware including bowls, tea sets and serving dishes should be wrapped carefully like fragile items and packed like china.
Loose flatware may be wrapped individually or in sets, and in paper, clear plastic or small gift boxes that are then secured with tape.
Even if silverware is in a chest, consider wrapping the pieces individually and reposition them in the chest. Or, fill all voids in the chest with newsprint to prevent shifting. The chest can be wrapped in a large bath towel.
Figurines, Curios and Other Delicate Items
Be sure the items are well-protected with plenty of cushioning.
Wrap first in tissue paper, paper towels or facial tissue. Then, wrap carefully in paper that has been wadded and flattened out.
Small mirrors, plaques, and pictures should be wrapped individually in tissue paper with an outer layer of newsprint.
A bath towel or small blanket makes an excellent outer wrapping and padding for glass.
Place flat items on edge in a carton.
Fragile Items: Consult with your moving company on the packing of exceptionally fragile items. If an item is extremely valuable as well as delicate, it might be wise to have it packed for you as special materials might be needed for maximum protection.
Lamp Bases
Some advice for packing lamp bases consists of after removing the light bulb and lamp harp, wrap the base, harp and bulb separately in newsprint. Place them together in a carton, filling voids with wadded paper.
Lamp Shades: Never wrap lamp shades in newspaper, as the ink will soil the shade. Instead, carefully wrap each shade in three or four sheets of packing paper, tissue paper, a pillowcase or a large lightweight towel.
Use a sturdy carton at least two inches bigger all around than the largest shade. Line it with clean paper, using crushed paper under the lampshade to create a protective layer, but not around the shade.
A smaller shade may be nested inside a larger one, provided they do not touch.
Only one silk shade should be placed in a carton to avoid stretching the silk.
Do not pack other items with shades.
Label cartons "LAMP SHADES FRAGILE – TOP LOAD ONLY."
Chandeliers and Leaded Glass Shades
It's best to consult with your moving company about custom-made cartons and crates for items of this kind.
This includes:
glass table tops
marble slabs
large mirrors
paintings
statues & large vases
Paper should never be permitted to touch the surface of an oil painting.
Table Leaves
Table leaves are best transported in paper pads or moving blankets then taped to hold the padding in place. Don't use plastic wrap, as moisture may get trapped and damage the wood.
Draperies & Curtains
Wardrobe cartons are ideal for moving curtains and drapes. Fold them lengthwise, place over a padded hangar, pin securely and hang in the wardrobe.
Draperies and curtains also may be folded and packed in cartons lined with clean paper or plastic wrap.
Rugs
Leave area rugs on the floor for the moving company to handle.
You may want to consider having your area rugs professionally cleaned before your move, you'll get them back from the cleaners wrapped, rolled and ready for shipping.
Area rugs should be loaded last and unloaded first so the furniture coming off the truck can go right on top of the rug.
Furniture
When it comes to moving furniture your moving company will wrap large items in heavy-duty moving blankets the day of your move.
Talk to your moving professional beforehand about any leather items.
Table corners can be protected with cardboard.
You may want to consider packing couch pillows in large boxes.
If you have any concerns the day of your move, always feel free to ask your movers. Your moving company is there to help, and trust us, your movers don't want problems or damages cropping up any more than you do!
A successful move for you is a successful move for your moving company.