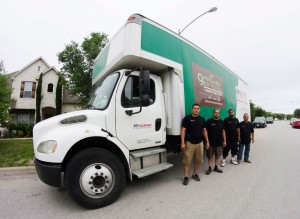 Do you know the difference between a moving company vs a moving broker?
A moving broker is definitely not a mover!
What Is a Moving Broker?
Moving brokers are basically a sales team that book your move and sell it to an actual moving company, so the day of the move you would get a surprise: the mover you chose after long research, to trust and move your home, is a different mover – not the one that you picked!
Why Should You Avoid Using One?
Brokers do not have the operational and logistic capabilities that moving companies have.
They do not have moving trucks, professional movers, proper moving equipment, and in a lot of cases not much moving experience.
Sometimes the broker does not manage to sell the job because he 'lowballed' the estimate and no reputable moving companies are willing to buy the job. In this case, you can get stuck with no mover on the day of your move.
Worst of all, many of the moving brokers are located in a call center somewhere far from your city.
New Regulations for Moving Brokers
Hopefully, the days of brokers misleading customers and hiding behind unclear regulations have come to an end.
The new FMCSA requirements compel interstate household goods brokers to comply with a number of rules and consumer protection regulations.
In the past, some of them have been similar to those required for household goods carriers. Under the new regulations, brokers will be subject to the same consumer protection requirements as licensed interstate movers.
Brokers must include their USDOT number in their advertisements and on their websites.
They must provide the same consumer information brochures as required of interstate household goods carriers.
They must make clear their policies on deposits, cancellations, and refunds.
Must provide an increased $25,000 surety bond.
Brokers can now only provide estimates performed by authorized carriers with whom the broker has a current agreement, and then only based on the carrier's tariff.
Physical surveys are required for shipments located with 50 miles of the authorized carrier's place of business. An electronic waiver of the physical survey is permitted only if agreed to by both the carrier and the shipper.
The New Broker Advertising Regulations
Broker advertisements and internet sites may now only include names and logos of FMCSA authorized carriers with whom the broker has a current agreement.
The American Moving and Storage Assoc (AMSA) also recommend that broker fees or charges should be separately identified on estimates, and clearly distinguishable from transportation charges.
These changes mean that consumers should have a much easier time figuring out if the company they are dealing with is a broker or an actual moving company.
Stay Informed About Your Move
When you book your move make sure to ask the company you are moving with if they are an actual moving company. Make sure that the company you booked uses its own crews and trucks to pick up your shipment.
When in doubt, stick to using a reputable local moving company instead of relying on a moving broker.