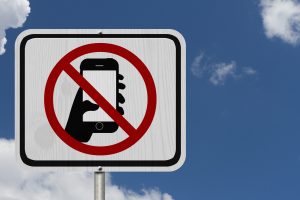 Heads up to all the wireless device junkies out there: Austin's new rules  became effective Jan. 1, 2015, which means using a hand-held electronic device while driving or cycling could cost you a hefty fine of up to $500. In short, hands-free is OK, hand-held is NOT.
Most drivers seem to understand that using hand-held electronic devices while driving is just asking for trouble, and also – with today's technology – completely unnecessary. The new city ordinance drives home that point.
At Austin-based Elephant Moving and Storage we applaud and fully support the new ordinance. We've had these rules as company policy for a long time. Doing otherwise isn't worth the risk. Our Austin movers strive to be the safest on the road.
An Oct. 24, 2014 press release from the Austin Police Department sums up the ordinance:
"August 28, 2014 the Austin City Council passed an ordinance that prohibits the use of portable electronic devices while operating a motor vehicle or bicycle (Ordinance No. 20140828-041). The new ordinance will go into effect Jan. 1, 2015.
"Unless using a hands-free system such as Bluetooth or headphones, or an affixed GPS system, use of portable devices while moving in a car or on a bike will be a citable offense.
"Portable electronic device means a hand-held, mobile telephone, personal digital assistant, MP3 or other hand-held music player, electronic reading device, laptop computer, pager, broadband personal communication device, GPS or navigation system, electronic gaming device or portable computing device.
"Hand held cell phone use is permitted in the event of an emergency such as calling 9-1-1 or 3-1-1 to report a crime or an accident. Even in an emergency situation, it is best to pull over and come to a complete stop before using or operating any mobile or hand held device.
"Violation of this ordinance will be a Class C Misdemeanor, punishable by a fine of up to $500, beginning in January 2015."
So, Happy New Year! And welcome to the new rules of the road in Austin.