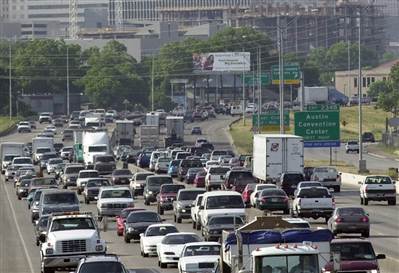 As anyone who's driven through Austin can attest, the stretch of I-35 that bisects central Austin is a driver's nightmare. It's so bad, the state built a super-fast tollway east of I-35 to lure through-traffic away from the interstate. Now a national study confirms it: the situation is as bad as we thought.
The latest analysis by the American Transportation Research Institute (ATRI), the research arm of the American trucking industry, shows that the stretch of I-35 that bisects central Austin ranks as the 10th worst traffic intersection (out of 100 ranked) in the nation.
Why the researchers included that dreaded stretch of highway with 99 other intersections isn't clear, but we get the point. Just to be correct, the formal name of the study is, "Congestion Impact Analysis of Freight-Significant Highway Locations – 2014."
Drilling down into the specifics of the report, it shows that from about 1 pm to 8 pm, the average speed of traffic on that part of I-35 is 35 mph or less. During peak rush hour (4-6 pm), the average speed drops to 15 mph or less. And, that's on a normal day.
Only The Begining
And with Austin's population expected to grow to almost 885,000 in 2015 and to more than 965,000 by the end of the decade, the traffic congestion is only going to get worse.
At Elephant Moving and Storage, your Austin movers, we do our best to avoid traffic congestion, because time is money – your money. If you're planning a move, be aware that travel time is a cost. Plan your move to avoid peak traffic routes and times. Be flexible, and let us work with you to schedule your move to minimize the traffic factor.