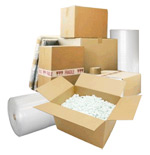 We've got the best practices when it comes to deciding how many boxes you will need when you move.
Below are some guidelines to help you prepare the supplies you need, as well as give you an idea of how many boxes you should have moving companies add to your estimate to give you the most accurate quote possible.
The Best Tips For Getting Moving Boxes
Remember, it is always better to overestimate the number of boxes!
This ensures that the quote you get is truly a high-end estimate. It will also help you when you shop for packing materials.
If you are buying them yourself it is a good idea to take more than you think you need. That way you will not have to make runs to the store in the middle of packing.
If you have extra boxes, many moving supply stores will buy back your unused boxes if you end up having leftovers. If you buy your supplies from a moving company, be sure to ask if they will take back unused materials.
Buying your materials from a moving company is also a great way to avoid having to lug the materials around yourself.
Here at Elephant Moving, we offer competitive prices and FREE DELIVERY!
We can also deliver additional materials if you run out. If you have extra supplies, we will gladly take back unused materials when we come to move you.
The cost of the packing materials you used is added to the final bill for your move.
1 bedroom: 15 small, 10 medium, 10 large + wardrobe, and dish
2 bedroom: 20 small, 20 medium, 10 large + wardrobe, and dish
3 bedroom: 30 small, 20 medium, 20 large + wardrobe, and dish
4 bedroom: 35 small, 25 medium, 20 large + wardrobe, and dish
5 bedroom: 35 small, 30 medium, 25 large + wardrobe, and dish
Wardrobe boxes have a 24-inch metal bar that can accommodate up to 2 feet of hanging clothes. Elephant Moving sells these boxes and also rents them for the day. If you decide to rent wardrobe boxes, leave your hanging clothes in your closets until the day of your move. When your movers arrive they will hang the clothes in boxes, load them in the truck, and hang the clothes in the closets when they arrive at your destination!
Dish packs are heavy-duty boxes that offer superior protection for your fragile items. Most standard kitchens need 5-7 dish packs and 1-2 bundles of packing paper. If you have a china cabinet or a lot of extra dishes/breakables you will need more of these.
Don't forget the tape, markers and packing paper!