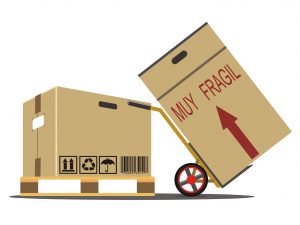 When purchasing moving insurance coverage for your local or long-distance move you should be sure to read the fine print carefully!
There are some things that are not covered by any third party moving insurance policy.
Boxes, containers, and items that are packed by owner (PBO) are excluded from full coverage – the maximum amount that will be paid for these items is $250.
If there are items that need to be boxed or otherwise packaged that you would like insured for above this amount then you will need to order packing services from your mover in order to get full replacement coverage.
Delicate and fragile items must be professionally packed and/or crated in wooden or other protective containers to be covered.
This includes:
glass tables/tops
marble tables/tops
slates
paintings
framed pictures
chandeliers
display cases
Wrapping such items in moving pads only does not constitute professional packing and is not covered.
All lamps, including floor or pole lamps not professionally packed in cartons specifically made for this item, will be excluded from coverage.
Loss and/or damage to articles not professionally wrapped with special moving pads, bubble wrap, and/or shrink-wrap will also be excluded from coverage.
Mattresses and box springs are specifically excluded from coverage unless packed by the mover in mattress cartons specifically designed for this purpose.
Shrink-wrap alone does not constitute proper protection.
The following items are excluded from coverage regardless of how they are packaged:
Jewelry
Watches
Gem
Stones
Cash
Currency or banknotes
Deeds
Traveler's cheques
Coin or stamp collections
Sports memorabilia
Alcoholic beverages
Negotiable items
Furs or garments trimmed with fur
Plasma televisions
Firearms and ammunition, or contraband
Loss or damage to motorcycles is not covered. Wrinkled or soiled clothing, linens, drapes, or rugs are also excluded.
Additional Exclusions
*** Moving insurance excludes damage to any furniture constructed of veneered chipboard, particleboard, composite board, pressed wood or similar. Any reduction in quality arising as the result of dismantling or reassembling of any such items of furniture is also excluded.
And perhaps the most important exclusion to remember: Items not listed on the movers' inventory or prepared at origin are not covered. Items not shipped are not insured.
Be sure to double-check the inventory your movers have prepared for your shipment!
Read Everything
As with any insurance policy, it is important to read through your moving insurance policy information so that you are aware of all exclusions and exceptions to the coverage. If you have any questions or concerns talk to your move coordinator.
The insurance offered on your move covers only the items that the movers are transporting. Please be advised that our liability is limited to $50.00 for damage to floors, walls, doors, and painted surfaces.