Moving Tips #3: Utilize Wardrobe Boxes
For your helpful moving tips #3, your Austin moving company has found a lot of ways to maximize wardrobe box use. These tall boxes are perfect for bulky, lightweight items such as comforters, pillows, and blankets, as well as clothes that need to remain hanging.
Our standard wardrobe boxes are 24 inches wide so 2 feet of your hanging clothes will fit in each box. Measure the clothes in your closets (including coat closets) to see how many wardrobe boxes you will need.
You can also use wardrobe boxes for closet storage boxes, shoe boxes, and other bulky items such as fabric bolts, large baskets, or gift wrap tubes.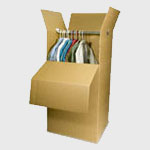 Wardrobe boxes work great for securing odd miscellaneous items you are unable to fit in other boxes for interstate moving (i.e. vacuums, ironing boards, brooms and mops, non-fragile lamps, fans, space heaters, folding chairs, etc). Just don't make the boxes too heavy to lift! Wardrobe boxes are not meant for books, bricks, bowling balls, dishes, or other small, heavy items that can easily be packed in smaller boxes.
Get your local or long distance residential or commercial moving estimate now!