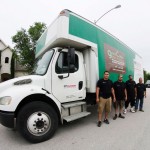 Since this is the peak of the moving season, it seems like a good time to talk about movers, compare moving quotes and estimates, and how to compare apples to apples. To keep it relatively simple, we'll limit our focus to local and intrastate moves. We'll talk about long-distance/interstate moves in another post.
First of all, realize that the moving business is a highly regulated industry — and for good reason. Individuals and families entrust their valuable property with movers, and unfortunately problems can arise.
That's why legitimate, professional moving companies, such as Texas-based Elephant Moving & Storage, play by the rules and are fully licensed, bonded and insured. If you get two or three quotes and there is a large disparity, it could be a red flag. The low-ball quote might be from an unlicensed, uninsured and perhaps illegal operator. If something goes wrong, you will have no recourse.
Even if they say they are licensed, they may not be, so be sure to do your homework.  Check out the USDOT website (http://www.safersys.org/) to check the status of their license number.
To determine whether an operator is licensed in Texas, visit this website:
https://apps.txdmv.gov/apps/mccs/truckstop/
Make sure they provide a proposal in writing as well as a contract for service. Pay using a credit card or Paypal account. And, of course, remember if the price seems too good to be true, it probably is.
So, let's assume you've confirmed that the two or three companies you're considering are legitimate, professional movers.
How do you compare moving quotes or estimates? Start by determining whether they are actually comparable:
Estimate or fixed price, there's a big difference
Do both take into account the same variables, e.g. same size load, travel time, stairs/elevator, long carry?
How do the hourly rates compare?
After you've determined that the quotes indeed are comparable, then drill down into the details:
Does the mover charge extra for plastic crates?
Does it charge more for moving on weekends and holidays?
Do they charge extra for protective padding and wrapping?
Do they charge extra for any other services?
Recently, you might have noticed some entrepreneurial storage companies also are offering limited moving services. These companies might be a good fit for folks who are moving/storing just a few items, but beware: these companies only pick up and move what you have ready to be picked up at curbside.
With these companies, any disassembly, power/plumbing disconnects, and in most cases, even moving the items to the outside pickup spot are your responsibility. The moving quotes are low for a reason: very limited service. These companies make their money mainly on the storage fees, and there's usually a hefty minimum, e.g. four months.
Bottom Line: Know what you really need and get the details before you make a commitment. And be sure you hire a mover that is without a doubt licensed, bonded and insured.