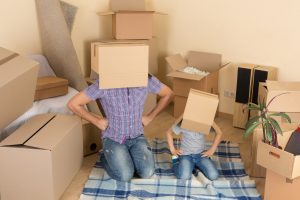 We know packing is hard work.
At Elephant Moving & Storage we make every effort to keep moving simple and as easy as possible, as well as the most cost-effective for our customers.
For local moves, we have a number of systems at work in our trucks that assist in keeping costs down and packing to a minimum.
Not all movers help you decide what to pack, but we do!
Small & Large Items
All small items (clothing, shoes, dishes, books, knick knacks, etc) should be boxed to ensure they are protected while they are being relocated.
However, certain items, such as TVs, mirrors, glass tops, glass shelves, framed pictures, small electronics, computer components, and lamps can remain unpacked.
Our trucks are all equipped with special bins that allow our crews to take care of these items without the bother and expense of packing them.
Flat Items
Flat items such as pictures, mirrors, glass or stone tops and flat TVs are placed in the long narrow picture bin after being wrapped in heavy-duty quilted blankets.
The bin is then padded with more blankets to ensure the items do not shift while in transit. All of the items in this bin ride on their side or edge, so nothing is stacked on them and they are well protected.
Bulky Items
Bulkier items such as small electronics, computer components, and lamps are placed in a commercial bin, which is similar to the picture bin but wider.
All items are individually wrapped in quilted blankets prior to being placed in the bin, and then the bin is padded with more pads to ensure the items are secure and can not move around.
For larger flat-panel TVs we can provide a custom made wood and foam crate that is similar to our picture bins but sturdier.
All of these bins and crates are provided free of charge for use on local moves. This saves quite a lot of money for our customers because these types of items usually require a lot of packing material.
Simply inform our office that you have items of these types so that they can note it on the order for service.
All trucks are equipped with a picture bin that can hold up to 7 pictures/mirrors and one to two commercial bins. If you have a lot of these items or have a large flat panel TV then the office will need to make sure the movers know to bring additional bins/crates.
For cross country moves these items will need to be packed, but ask your salesperson about the option to purchase cardboard bins – this may end up costing less than individual boxes.
Get your local or cross country residential or commercial moving estimate now!