June and July are the busiest months for moves and relocation. Planning and preparation are essential. Here is a simple Five-Step Plan for making your move as painless as possible:
1. For any move in Au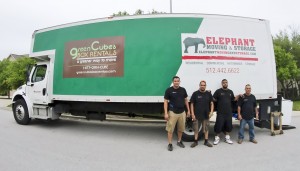 stin, Houston, San Antonio or Central Texas, of course, contact Elephant Moving and Storage. We have the experience, capability, equipment, facilities, and supplies to handle any residential or commercial move in Texas – all at competitive rates and prices. Contact us by phone, e-mail, or our website for more details and to start the process.
2. About 30 days before the actual move, make a checklist and begin scheduling notifications re utility shut-offs and service transfers; mail service; new address notifications; schools; others. Assemble important documents that will be needed in getting settled, such as school vaccination forms, insurance policies, and other documents.
3. About three weeks from your move date, start taking inventory and decide what must be moved, what can be trashed, and what can be given away/sold/recycled. Set aside or begin trashing all the items that will not be moved.
4. About two weeks from moving day, start packing. Label boxes and color code for rooms and priority. If you hire us to pack, we complete the packing in one day, usually the day before the move, sometimes day of, or it could be a couple of days before, depending on your needs. Make sure to maintain control over your small valuables, medications, small electronic devices, including chargers, and critical papers.
5. The week before moving day, make arrangements, if necessary for child care and/or pet care. Consume or give away frozen foods. Confirm payment arrangements with the movers.
One more important point for interstate moving: Interstate moves can be affected by distance, weather, road/traffic conditions, other customers, and various unforeseen circumstances. When you Elephant Moving and Storage, we will give you a "delivery window," based on your destination and the first available delivery date you provide. For example, average transit time to Florida is 5-7 days; average transit time to New York City is 7-10 days, etc.
Although we aim to deliver as close as possible to the first available date you provide, we do not guarantee delivery dates unless you have contracted for an exclusive truck. The maximum delivery window to any location is 21 days. DOT regulations require that we deliver your belongings within that maximum delivery window. That means that you must be sure to keep with you any critical items that you must have during that maximum 21-day delivery window, and plan accordingly.
We'll discuss delivery windows again in more detail in a future blog post. Stay tuned…
There are lots more moving and packing tips on the Web, but if you follow these basic steps, you will have a smooth move. Planning and preparation pays off. Last-minute decisions always increase costs and headaches.
For more information and ideas, visit the American Moving and Storage Association at www.moving.org.