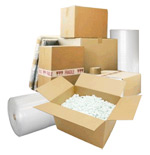 Moving is simple. All you need are a couple of big, strong guys and a truck, right?
In reality, moving can be complicated. It demands planning, coordination, the right tools, equipment, supplies, facilities, and most importantly, teamwork. Take, for example, this moving project that we handled recently for a major department store and its interior design firm:
The store wanted to showcase a new collection of home furniture and accessories – about 300 items, both large and small. Rather than simply invite consumers, designers, and other prospective customers to visit a store display, the design firm hired by the store recommended outfitting a real home with hundreds of furnishings and accessories, rotating them over a one-week time span. The store said, "Fine. Make it happen."
Enter Austin's Elephant Moving & Storage.
The project required careful planning and coordination. We have the capability to receive shipments via freight and household goods carrier. Our office can coordinate receiving and inspection of large multi-part shipments and store them for as long as needed in our secure warehouse facility.
For this project, our Elephant Moving team was required to:
 inventory, pack up small items in our reusable packing crates, disassemble, blanket wrap, move and store existing furnishings and accessories from the showcase house
 inventory, move, and unpack all the new furnishings and accessories from our storage warehouse to the showcase house
inventory, pack, and move new furniture and accessories several times as new items went on display
move all the original furniture and accessories out of our storage and back to the showcase house, unpack and reassemble all the items
pack up the store's furniture and accessories and ship out from our warehouse back to their locations.
Altogether, the project required six trips for pick-ups and deliveries (about one a day for a full week), plus packing, unpacking, moving and warehousing, debris removal and disposal – a total of more than 100 worker hours, plus moving crate rentals.
And it all went smoothly, thanks to careful planning, coordination, Elephant's facilities and capabilities, and teamwork. Everyone was pleased, and we're already working on the design firm's next big project.
Moving isn't simple, but choosing the right commercial moving team can ensure it goes as smoothly as possible. This project showcases all of our services rolled into one job for a single customer, but not every move is as complicated. Elephant Moving & Storage can provide any of these services separately to our customers, as needed.
Whether you need to: receive one item or rent several pallets; store a few pieces or your entire home; just moving, and/or full packing services, Elephant Moving & Storage is well equipped to service all your moving and storage needs on any scale. #texasmovers, #austinmovers, #elephantmoving